VALUE FOR CUSTOMERS, VALUE FOR MONEY
ALLOW US TO INTRODUCE OURSELVES...
Living your dreams, crafting your imaginations… Anu Furniture was born out of discontent with the status quo, and a desire to change the furniture industry for the better. Our core mission - to deliver design-forward products, straight to your doorstep. We are in the business of serving the furniture needs of people since 1994. Operating one of the largest and finest showrooms of the city, today "Anu Furniture" is recognized as the fastest growing furniture stores in Hyderabad and Bengaluru.
Besides, being renowned for its premium quality products, Anu Furniture is the most celebrated brand for its wide range and impeccable designs. To cut-down middle man expenses and provide the best possible price to our customers, we have incorporated an in-house manufacturing facility. Our in-house designers and craftsmen ensure the finest-quality products and timely delivery of any size of requirement. Beyond everything, it is the trust and satisfaction of our customers that has made this journey so easy to travel across and achieve big in life.
Our Philosophy - Value for Customers, Value for Money
About Us
We are Anu Furniture, a premium furniture brand based out of Hyderabad, India. We provide custom furniture to you, our customers, keeping in mind your unique needs. We create and deliver impeccably and exquisitely designed and crafted furniture right to your doorstep. Operating since 1994, we have been serving your furniture needs through one of the largest and finest showrooms in Hyderabad. We are one of the fastest-growing furniture chains in the city. We provide you with a wide range of furniture for your offices and residences that reflects your lifestyle. We have cut down on middleman expenses to provide you with the best possible furniture at the best possible price! We also have an in-house manufacturing facility so that our designers and craftsmen can cater to any and every furniture requirement.
Operating in the premium, custom furniture space, we have won over your trust, confidence, and satisfaction, so that we continue to grow and serve you better. We are always looking for ways to save overheads, time and materials without compromising on quality and can pass these savings on to you, our valued customers. Our principle is simple – Value for Customers, Value for Money! We continue to fulfil your furniture needs affordably, by leveraging technology and without exploiting people or the environment. We are seamlessly building the furniture brand of tomorrow…today!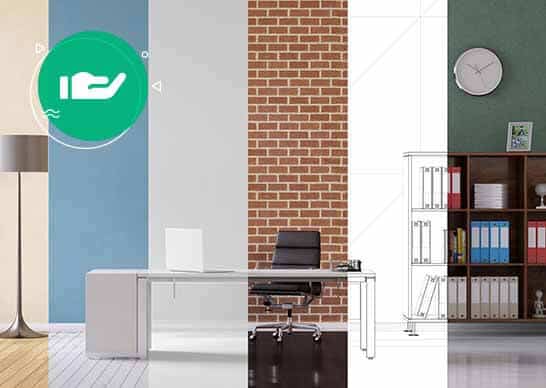 OUR OFFERING
We, at Anu Furniture, have been successful by shaking up the status quo in the fine, premium, custom furniture category. We have done this by challenging accepted norms, and providing a fresh take on both residential and office furniture. We provide a wide range of furniture in varied categories, and concentrate on our principles…providing you with the finest furniture, made-to-order, delivered right to your doorstep and installed as per your needs.
We offer the finest value in the premium furniture category. Our furniture is made from the best of materials, is crafted exquisitely, and is made to last. We continually update our offerings based on the latest trends, so that our furniture never goes out of style. So, check out our offerings and visit our showroom…today!
Quality
We, at Anu Furniture, believe that if we do something, it's worth doing well! And in our case, this is premium, custom-made furniture, crafted for you, as per your requirement. We never compromise on quality and provide you with the latest in furniture trends in India and globally. Our quality furniture lasts for years and years and becomes the talking point, whether it is in your home or office.
With Anu Furniture and its commitment to quality, what you see is definitely what you get! Our quality furniture is finely finished on both the inside as well as the outside, so it won't chip, tear or peel. So, if you want quality furniture in India at an affordable price, opt for Anu Furniture…today!
CHOICE
We believe in something for everyone, as per your unique and distinct needs. We offer you a wide choice of designs, materials, and craftsmanship to create custom furniture for your home and office. We are engaged in manufacturing, retailing, and supplying a wide range of custom furniture, ranging from beds to sofas, and from office desks to bookshelves. Whatever you visualize and want, we, at Anu Furniture can create it for you!
While the design of your custom furniture may begin in your head, we give it final shape. Our furniture while wide-ranging is all built based on our unique principle – Value for Customers, Value for Money! So, if you are in the mood for a wide choice of premium furniture, do contact Anu Furniture today!
VALUE
We, at Anu Furniture, offer you, our valued customers, high value when it comes to your custom furniture, by cutting down overheads, leveraging technology, eliminating middlemen, and cutting out high-street margins. We understand that your home or office is your unique space and we create high-value furniture that reflects your unique personality. So, whether it be that fantastic modular kitchen, that bedroom set, that office desk, or that wood rocking chair, all our furniture is exquisitely crafted by our skilled designers and craftsmen to provide you with the best value.
Whether you want to upgrade your furniture, or create an entirely new look, with Anu Furniture, you can be sure that you are getting value for money… So, don't wait any longer…visit our showroom today!
MODERNITY
We, at Anu Furniture offer you the latest and most modern furniture by creating contemporary designs, alluring aesthetics, and captivating products. We also use the latest technology to create furniture that will enthral you with its modern look and feel. We can create modern furniture for you in varied styles. Our furniture uses modern materials, such as leather, vinyl, steel, moulded plywood, wood, and plastics with a monochromatic or multichromatic colour scheme to create sleek and stylish interiors.
So, if you want modern furniture that is clean, contemporary yet, classical and made of the finest materials at an affordable price, look no further than at Anu Furniture!
ACCESSIBILITY
We, at Anu Furniture, offer the best to the most, for the least. Our furniture is affordable and accessible, without having compromise on quality. We make furniture accessible and affordable by introducing a new way for you to order or purchase premium, custom furniture. We can also customize and personalize readymade furniture and create your very own dream pieces. With a wide selection of off-the-shelf furniture items available at our stores, customers are spoilt for choice.
So, whatever your dream home or office looks like in your imagination, we, at Anu Furniture will help that dream become a reality with our accessible, affordable, and beautiful furniture. So, do visit Anu Furniture today and make your dream come true!