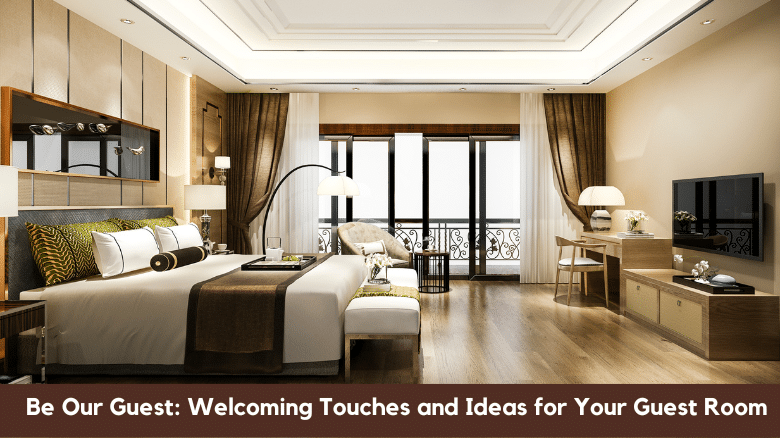 Be Our Guest: Welcoming Touches and Ideas for Your Guest Room
Introduction:
Welcome to the blog all about creating the perfect guest room. If you live in the Hyderabad area and need new furniture for creating a warm and inviting space, I'm here to give you some great ideas. In this blog, you'll find a variety of tips on how to welcome your guests into your home, from the perfect color palette to art pieces, room layout, and more. So, start exploring and start creating the best guest room experience your friends and family will remember for years to come.
Preparing for an Overnight Visitor:
1.Space & Furniture:
When it comes to hosting guests, you want to make sure they have all the comforts of home. That's why maximizing space and giving careful consideration to furniture in a guest room is key. Ensure the room is clutter-free, and that no unnecessary furniture is crowding the space. Invest in an inviting bed frame, complete with pillows and a comfortable mattress. Also, choose pieces that can serve a dual purpose – a blanket box used as a bench at the end of the bed and a storage ottoman used for seating, for example. This will free up some more room. Additionally, provide guests with useful amenities like a bedside table, full-length mirror, wardrobe and shelving. With the right furniture, your guest room will be sure to offer a warm welcome.
2.Decor & Comfort:
When it comes to making your guest room welcoming and comfortable, there are a few key elements to consider. Firstly you'll want to think about the decor - stick with neutral colours and use lots of layers of soft fabrics in hues of grey, copper and cream to create a warm and inviting space. To make the room feel personalized you could add some unique touches, such as framed photos of family and friends or a vase of freshly picked flowers. In terms of comfort, make sure you include plenty of cushions, a throw or two and plenty of pillows so your guests can snuggle down after a busy day. They'll appreciate the extra thought you've gone to!
3.Necessary Amenities & Supplies:
Creating a guest room that stands out for your visitors is of paramount importance. Ensuring that you have the basic amenities and supplies on hand for guests is the first step. Much like a hotel room, some of the essential items to include are adequate storage for clothing and luggage, guest toiletries, an alarm clock, charging ports for electronics, a first-aid kit, WiFi information, local magazines and guides, plus a selection of teas and coffees. To give your guest room that extra special touch, provide fresh, seasonal flowers and a selection of snacks. A hospitality tray with a selection of treats and local delicacies goes a long way in creating an inviting atmosphere for your visitors to feel welcomed and relaxed.
Where to Source the Perfect Furniture in Hyderabad?
For those looking to source the perfect furniture for their guest room in Hyderabad, Anu Furniture is an excellent choice. Boasting a wide selection of stylish and modern pieces, the store is a testament to high quality craftsmanship. With beautiful wooden furniture, comfortable seating options, and glamorous lighting designs, Anu Furniture can help take any bedroom to the next level. Prices are also surprisingly affordable, making Anu Furniture a great choice for those on a budget. Their friendly and helpful staff are always available to answer any questions or queries, making the experience a pleasure from the start to finish. Ultimately, it's no wonder Anu Furniture is one of the most sought-after furniture stores in Hyderabad.
Ideas for Styling the Bedroom:
1.Introducing the Right Bed & Mattress:
Providing the right bed and mattress for your guest room is an essential touch for ensuring a comfortable stay. To ensure maximum comfort, replace your bedding every 8-10 years. As a general rule, if you sleep on a mattress which is more than 10 years old, it is time to change it. A quality mattress will provide support for your guests' body, allowing them to sleep in proper alignment and wake up free from aches and pains. Be sure to consider the size of the bed, depending on the number of guests you plan to host. Invest in a mattress and bed which are comfortable for your guests and provide them with a good night's sleep.
2.Bed Linen & Accessories to Make the Room Look Inviting:
Creating a comfortable and inviting room for your guests is one of the most important steps when it comes to welcoming them into your home. Start by ensuring any beds on offer are made up with crisp fitted or flat sheets and plenty of cozy blankets to choose from. After that, it's all about the small touches that will make the room look inviting. Accessorize with scatter cushions in a variety of textures and beloved vintage finds from your travels abroad. Include a well-stocked bedside drawer, filled with essentials like a phone charger and tissues, as well as some thoughtful extras like a book of local things to do or a few pieces of dark chocolate. Combining comfort and personality is the perfect recipe for a truly inviting guest room.
3.Small Touches to Make It a Home Away From Home:
Creating an inviting space for your guests that feels like a home away from home can be achieved with just a few simple touches. Start with ensuring their comfort is your primary concern; make sure the bed is comfortable and the room is warm and inviting. Topped with soft sheets, fluffy pillows and a warm blanket, your guests will be sure to feel at home. Completing the look with soft and cozy furnishings like rugs or throws will give the bedroom a homely feel. Finally, offer a selection of amenities, such as clean and fresh towels, spa products, nespresso machine, cereals and teas with a welcome note. Making sure the room includes basics like Wi-Fi, AC, TV and radio will ensure your guests feel welcome, comfortable and relaxed.
Adding Little Extra Touches:
1.Bathroom Amenities & Additional Supplies for Stocking the Room:
When it comes to preparing a guest room for your visitors, making sure it's stocked with the essentials can make the world of difference. The bathroom in particular should be well equipped with any amenities that your guest may need such as towels, shampoo, soap, and toilet paper. When it comes to extra supplies, soaps, and shampoo, it's a great idea to provide goodies such as moisturizing lotions and disposable razors in case your visitors may have forgotten their own. Little touches such as these can make a guest room feel like a home away from home and be greatly appreciated by your visitors.
2.Welcome Basket or Gift:
Arriving in a new place can be daunting for a visiting guest, so why not show your appreciation for their decision to visit with a warm welcome basket or gift? Fill the basket or gift with treats that are unique to the area in which you live. Maybe some local produce or specialty foods. Perhaps a selection of items that could be used during their stay, like a guide book for the area, a map of the city, or a selection of toiletries and towels. Adding a personalized note for the guest is a thoughtful way to make a lasting impression, and to show them that you are truly grateful for them choosing to stay with you.
Must-Haves for an Ultimate Stay:
1.TV for entertainment:
If you're looking for an easy way to ensure your guests have a pleasant stay, why not provide the facilities to enjoy a bit of entertainment? With the range of streaming services available, you can now provide your visitors with a choice of the best in TV programmes and films. They can have a unique selection tailored to their tastes, along with catch-up services for the most up-to-date shows. You can also add in dedicated Kids or Sports products to give them an extra touch of luxury. By investing in internet-enabled TVs and streaming devices, you can provide hours of amusement for the entire family.
2.A Space for Relaxing & Reflection:
Your guest room should be a tranquil sanctuary for your guests to relax and reflect. Having comfortable and aesthetically pleasing furniture will help them to feel right at home and enable them to kick off their shoes and enjoy a good rest after a long journey. Make sure to provide them with a selection of books, magazines or newspapers to help them wind down and take a break from the hustle and bustle of everyday life. Candles and incense can also lend to the ambience, and the perfect finishing touch might be some tasteful artwork on the walls to create a warm, inviting atmosphere.
3.A Work Area for Business Travelers:
For those guests travelling on business, you could turn your guest room into a workspace, perfect for taking the burden of work away from the hotel room – giving a sense of normality and productivity to the corporate traveler. Add a desk, Wi-Fi and charging ports, and a lamp. Of course, you should stock your drawer with notepads and pens for maximum convenience. If you want to go the extra mile, equip the desk with some stationery, such as notebooks or bookmarks with your business's contact info. Those details could also be thrown in the welcome basket or left on the pillow for a special touch.
Conclusion:
Anu Furniture is a perfect choice for creating a comfortable and practical guest bedroom. Whether you're looking for a complete package deal or something more customized, the wide range of styles, colours and materials ensures that you can find furniture pieces to suit any aesthetic. What's more, Anu Furniture's quality assurance and unbeatable prices make a guest bedroom design that's both beautiful and within budget more achievable than ever before.