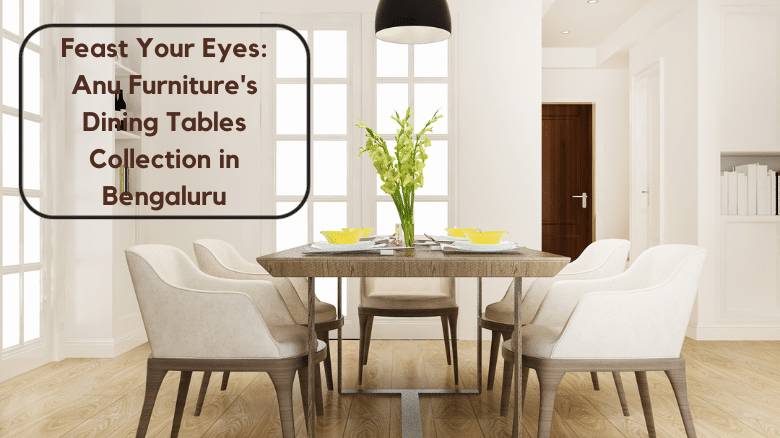 Feast Your Eyes: Anu Furniture's Dining Tables Collection in Bengaluru:
Introduction:
Anu Furniture in Bangalore is the place to go when you're looking for exquisite dining tables. This well-known furniture shop boasts of an impressive range of contemporary and classic designs in wooden, metal and glass dining tables. Each furniture piece is specifically hand-crafted to perfection making it distinctively unique. With varied sizes to choose from, Anu Furniture promises to offer the perfect dining table within your budget to help you create the dining area of your dreams. Whether you are searching for a modern styled table, traditional dining set, classic table or a modern glass piece, Anu Furniture in Bengaluru has something to suit your needs. So if you're on the hunt for high quality furniture in Bengaluru for your dining space, then feast your eyes on Anu Furniture's beautiful range of dining tables.
Styles of Dining Tables:
Anu Furniture is all about creating luxury dining tables to fit your style and budget. With two shops located in Bengaluru, Anu Furniture offers an extensive collection of dining tables in a variety of styles, shapes, sizes and materials. Whether you're looking for an elegant wooden table to suit your traditional home or a modern and stylish metal one to fit in with a more contemporary look, there's something for everyone here. Visit either Anu Furniture shop in Bengaluru and you'll be sure to find the perfect dining table to suit your needs.
Materials Used:
At Anu Furniture, we understand the importance of choosing the perfect materials for your dining table and that is why we have carefully designed our dining tables collection in Bengaluru so that you have access to only the best quality materials for your needs. Whether natural wood, engineered wood, metal, particle board or solid marble, all of our dining table options provide variety and durability whilst still maintaining the visual appeal. Our furniture in Bangalore is carefully crafted using only the finest materials, dependable on the desired finish. Shop from us today to find a furniture shop in Bangalore that provides quality products without sacrificing style.
What to Expect:
Anu Furnitures Dining Tables Collection in Bangalore is the perfect place for customers to find their perfect dining table. From classic to contemporary, Anu Furniture offers an extensive selection of dining tables for every home. All tables are made with quality material and craftsmanship, allowing customers to truly appreciate the timeless dining experience. All products are tested for safety and stability, ensuring customers an enjoyable and practical furniture shopping experience. With this diverse range of options available, Anu Furniture's is the best place to purchase furniture in Bangalore. Furthermore, experienced staff and experts are available to help customers design the perfect dining table for their home. With Anu Furniture's, customers can be sure of making the perfect furniture purchase in Bangalore.
Reasons to Visit Anu Furniture:
If you are looking for the best dining tables in Bangalore, then Anu Furniture is the place to be. Anu Furniture is one of the top furniture shops in Bangalore offering a range of furniture for your home. They are renowned for offering quality furniture crafted from the finest materials. Their dining table collection is also one of the largest in the city with incredible options to choose from. Whether you're looking for a traditional, contemporary, or modern dining table, Anu Furniture has something to suit your style. The company also offers customization services, ensuring you get the dining table of your dreams. Plus, their friendly staff are always on hand to answer any questions you may have or provide advice. So, don't miss out on the opportunity to purchase timeless furniture from Anu Furniture – the leading supplier of dining tables in Bangalore.
Conclusion:
In conclusion, Anu Furniture is the ideal destination for anyone who is looking for a stylish, classic and innovative dining table and furniture in Bangalore. Offering elegant designs, expert craftsmanship and superior quality services, they are one of the leading furniture shops in Bangalore that guarantee satisfaction. With a wide variety of designs to choose from, you'll be sure to find something suited to your needs. So, if you're looking for your perfect dining table set, look no further than Anu Furniture.
Anu Furniture, an esteemed name in the world of furniture, stands as a beacon of quality and design in Bengaluru. With a legacy that spans years, Anu Furniture has perfected the art of crafting furniture that seamlessly blends style, comfort, and durability. The brand is synonymous with trust and excellence, consistently delivering unmatched furniture pieces that transform spaces into elegant abodes.
What sets Anu Furniture apart is its unwavering commitment to using top-notch materials and employing skilled artisans. Every piece of furniture reflects meticulous craftsmanship, ensuring longevity and aesthetic appeal. The range of products is vast and diverse, catering to various tastes and preferences, from classic to contemporary.