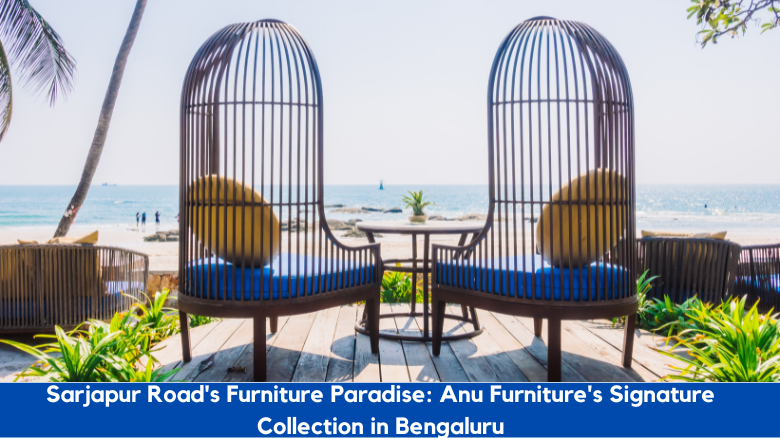 Sarjapur Road's Furniture Paradise: Anu Furniture's Signature Collection in Bengaluru:
Introduction:
Bangalore is known for its rapidly growing population, and Sarjapur Road is no exception. As people settle in this area, it's become one of the top spots for furniture shopping in the city. Anu Furniture, the latest furniture shop to open up in Sarjapur Road, is quickly gaining popularity for its signature collection of furniture pieces. Their line of stylish and affordable furniture is perfect for any local or visiting customer looking to spruce up their home. With a wide selection of collections, Anu Furniture is the ideal place for those looking for the perfect furniture piece in Bangalore.
What is Anu Furniture Bangalore?
Anu Furniture is a well-known furniture shop located in Sarjapur Road, Bangalore that offers a range of furniture for your home & office. It has become a furniture paradise as it brilliantly merges modern and traditional designs to create the signature collection for Bengaluru. They have a wide selection of products which includes wooden and steel furniture, along with unique designs. What makes Anu Furniture stand out is its attention to quality and affordability, making it a preferred choice among customers of varied needs. Thus, it has become the go-to place when people are looking to buy furniture in Bangalore.
Traditional Furniture in Bengaluru:
1.Overview of Traditional Furniture:
Anu Furniture is a renowned furniture shop Sarjapur Road, Bengaluru offering an exclusive collection of traditional furniture. It is a one-stop-shop for all furniture needs. From classic chic wall units to exquisite sofa sets, the store has something for everyone. The store is stocked with a variety of furniture from the grandest of royal pieces to the most modern, contemporary designs. The collection caters to both residential and commercial furnishing requirements. All pieces of furniture come at a budget-friendly price, making Anu Furniture a must-visit destination for all furniture lovers and connoisseurs in Bengaluru.
2.Unique Touch Provided By Anu Furniture:
Sarjapur Road in Bengaluru is known for its wide range of furniture stores, and Anu Furniture's Signature Collection is no exception. Anu Furniture provides a unique touch to Bangalore's furniture shopping experience by stocking an exquisite range of items. From designer furniture, bedding, home décor to convenient furniture, their furniture selection caters to all kinds of tastes and preferences. With an extensive range of styles, sizes, colors, and materials, their signature collection of furniture offers something for everyone. On top of that, their store also provides custom-made furniture and upholstering services, allowing customers to make their personal designs come to life. Indeed, Anu Furniture's Signature Collection on Sarjapur Road is a one-stop-shop for all your furniture needs in Bengaluru.
Collection of Anu Furniture:
1.Variety of Products At Their Store:
Anu Furniture's Signature Collection at Sarjapur Road, Bengaluru, is a one stop solution for all your furniture needs. Offering a wide variety of furniture for various purposes, this furniture shop is the perfect spot for every home decor lover. Whether you're looking for modern home furniture, outdoor furniture, office furniture, bedroom furniture or even furniture for your kids' room, you can find it all here. As one of the most popular furniture stores in Sarjapur Road, Anu Furniture's Signature Collection also strives to provide customers with the best quality products and favorable timings.
2.Bestsellers from Anu Furniture Signature Collection:
Anu Furniture is one of the most renowned furniture shops in Sarjapur Road, Bengaluru. Well known for its vast Signature Collection, Anu Furniture has some of the bestsellers that are sure to bring a touch of sophistication to your home. Whether you are looking for an elegant sofa or an exquisite dining table, they have something to meet all your furnishing needs. With an extensive catalog of quality furniture, they are one of the most sought after furniture stores in Bangalore. So, visit Anu Furniture's Signature Collection to add the perfect pieces to your home.
Benefits of Shopping at Anu Furniture:
1.Price Range of Their Signature Collection:
Anu Furniture's Signature Collection in Bengaluru is the talk of the town. Situated in Sarjapur Road, it boasts of a wide selection of well-crafted luxurious furniture at the most reasonable prices. Their highly skilled craftsmen use only high-grade materials to carefully craft every furniture piece to their customers' exact specifications. When it comes to pricing, the company offers a diverse range of appealing furniture that fits any budget - whether you are looking for high-end furniture in Bangalore or an economical furniture shop in Sarjapur Road, Anu Furniture is the go-to destination. Apart from their competitive prices, customers can also avail extra savings with their various offers and discounts.
2.Advantages of Purchasing Furniture from the Store:
If you are looking for furniture in Bangalore, Anu Furniture's signature collection on Sarjapur Road is definitely the place to visit. Their exquisite and creative pieces can help redefine the entire look of your home or workspace. Not only that, the store also offers a lot of advantages such as their convenient shopping experience, customization options, unique designs, competitive prices, and excellent customer support. All these factors make purchasing furniture from Anu Furniture an ideal choice for those seeking to spruce up their home or office space in a cost-effective way.
Follow Up Post Visit To Store:
1.Delivery Time & Communication:
At Anu Furniture's Signature Collection on Sarjapur Road, Bangalore, we understand how important it is for you to receive your order in a timely manner. We guarantee that your purchase will be delivered to you safely and quickly. We continuously keep in touch with our customers to make sure that each party is informed about the progress of the delivery. We provide you with regular updates on the status of your order as well as contact details in order to clarify any queries or doubts. This way, you can keep track of when your furniture will arrive and be sure it will get to you on time.
2.Post Delivery Services:
At Anu Furniture, we realize the importance of a hassle-free post-delivery service. Being one of the leading furniture stores in Sarjapur Road, Bangalore, we have a reliable post-delivery and installation team who take full responsibility of setting up your precious piece of furniture at your place. We take extra care when handling furniture and go the extra mile to ensure that its assembly and installation is done without any troubles. So now you can have the convenience of having seamless furniture delivery, without having to worry about it.
3.Quality Check of the Products:
At Anu Furniture, quality and durability is top priority. We ensure that customers get only high-quality furniture when they walk through our doors. To ensure that our furniture never compromises on quality, we have introduced a strict quality control system. Our experts inspect each and every furniture piece before it is delivered to our customers. We understand that it is essential to have good-quality furniture when investing a large sum of money in it. That is why we have implemented quality control checks for our furniture. We ensure that each and every furniture piece being sold at our store in Sarjapur Road meets the highest standards in terms of quality, durability and safety. Visit us today and experience the best of furniture shops in Bangalore.
Concluding Thoughts:
How Anu Furniture Stands Out From The Rest:
Anu Furniture stands apart from the rest of the furniture stores in Sarjapur Road, Bangalore, due to its dedication to quality and excellence in every piece they offer. With their signature collection, they provide luxurious and high-grade furniture that is crafted from the finest materials, ensuring that every product is built to last. Their commitment to quality and service has earned them the trust of customers across the city. Anu Furniture promises the best furniture experience possible, guaranteeing satisfaction with every purchase. Whether you are searching for new furniture for your home or office, Anu Furniture is the perfect place to find exactly what you need.